Intelligent logistics and warehousing
---
Stereoscopic Warehouse for Pharmaceutical Industry

Loading Capacity:1.5 Tons
Size of Storage Unit:1200mmX1200mm;
Travel Speed of Stacking Machine:160 meter/minute
Hoisting Speed of Stacking Machine:40 meter/minute
Working efficiency:200 pallets/hour
Quantity of Storage Locations:12,000
​
The utilization of conveyor belt and stacker systems within the current system/project enables streamlined transportation of raw materials and finished goods between intelligently automated warehouses and pharmaceutical production lines. This implementation encompasses crucial functions such as efficient storage of raw materials and automated feeding, effectively catering to the pressing need for punctual delivery of final drugs. Moreover, the integration of a comprehensive, fully automated information management system is instrumental in maximizing the effectiveness of production and warehousing operations, facilitating uninterrupted unmanned execution of manufacturing processes.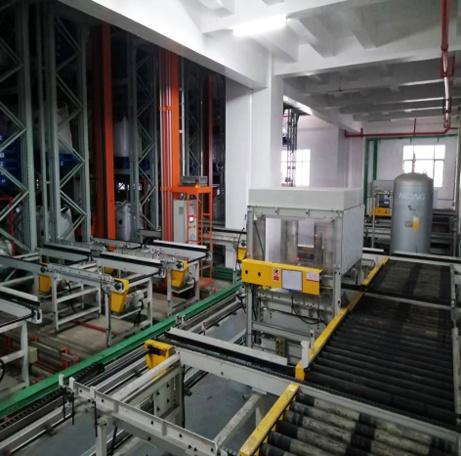 Stereoscopic Warehouse for Food Industry
Loading Capacity:1.2 Tons
Size of Storage Unit:1000mmX1000mm;
Travel Speed of Stacking Machine:160 meter/minute
Hoisting Speed of Stacking Machine:40 meter/minute
Working efficiency:240 pallets/hour
Quantity of Storage Locations:9800
The implementation of the Stereoscopic Warehouse is instrumental in achieving a seamless integration of crucial functions that encompass the storage and feeding of raw materials, as well as the packaging and distribution of finished goods. This integration plays a pivotal role in establishing an efficient operational framework by effectively connecting the starch syrup production line with the Stereoscopic Warehouse. Consequently, it fosters enhanced operational efficiency and streamlined processes within the organization.The warehouse management system demonstrates its advanced capabilities through seamless integration with both the Manufacturing Execution System (MES) and the Production Enterprise Resource Planning (ERP) system. This integration brings forth notable advantages, further bolstering overall operational efficiency. By harmonizing these critical systems and optimize workflows, allocate resources effectively, and maximize productivity.